Warning: If you ever plan to lift something heavy, then it's about time to heed the advice of this witty article. But if you're the type who prefers to live dangerously, then please proceed and gamble with your lower back at your own risk. For the rest of us mortals, let's get right down to business. We all know that lifting heavy objects can be quite a pain in the neck, but what's even worse is ending up with a hurting lower back. So, how can you lift safely and avoid suffering from lower back pain? Stay tuned and ready to laugh your way to a pain-free outcome!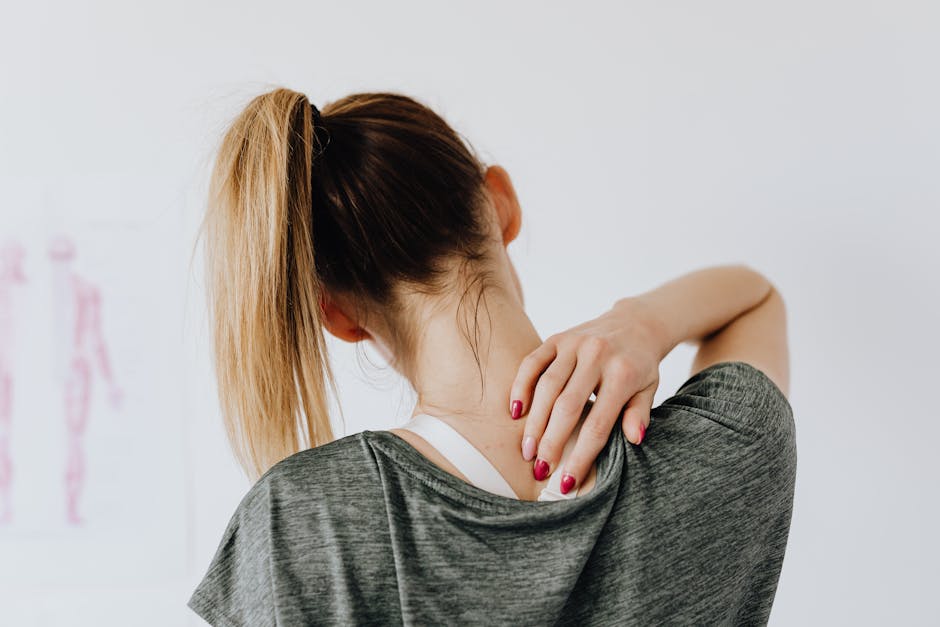 1. Understanding Lower Back Pain: An Overview
Let's face it, we've all had lower back pain at some point in our lives. Whether it was from carrying a heavy load of laundry or attempting some crazy yoga pose, our backs have been there to remind us that we aren't superheroes. But what exactly causes lower back pain and how can we prevent it?
Bad Posture: Yeah, sorry to break it to you, but slouching in your chair like a teenage boy playing video games for the tenth hour straight isn't doing your back any favors. Sit up straight, shoulders back, and maybe even throw in a little pelvic tilt for good measure.
Inactivity: Sure, Netflix and chill sounds like a great idea, but your back might not agree. Get up, get moving, do some stretches, and maybe even throw on a Jane Fonda workout video if you're feeling frisky.
Being Tony Stark: Let's face it, unless you have a fancy suit that can lift heavy objects for you, you probably shouldn't be trying to move that vending machine by yourself. It's okay to ask for help or hire a professional. Let's leave the heroics to Mr. Stark.
So, the next time you feel that familiar twinge in your lower back, think about your posture, activity level, and superhero aspirations. And if all else fails, just blame it on the ghost of that time you attempted a backflip in sixth grade gym class.
2. The Importance of Proper Lifting Techniques
Let's face it, nobody wants to be the person who throws their back out while lifting a pencil off the ground. That's like the athlete who gets injured warming up for the game. We don't want to be that person. And the solution is simple: proper lifting techniques.
First off, let's talk about posture. Stand up straight, people! Pretend like there's a string attached to the very top of your head and it's pulling you up towards the sky. This will help keep your spine in a neutral position and prevent those awkward slouching moments.
Secondly, always lift with your legs, not your back. This isn't a deadlifting competition at the gym, we're just trying to pick up a box of paper. Bend your knees and keep your back straight as you lift. And for heaven's sake, don't twist your back while carrying something heavy. That's a recipe for disaster.
Proper posture is key. Stand up straight and keep your spine in a neutral position.
Lift with your legs, not your back. Bend your knees and keep your back straight as you lift.
Avoid twisting your back while lifting. It's a recipe for disaster.
So, there you have it folks. Proper lifting techniques are not only important for avoiding back pain, but for preventing embarrassing moments in front of coworkers. Just imagine, you're about to lift a heavy box and suddenly your back gives out. Your coworkers rush to help you up and you're just sitting there, red-faced and embarrassed. Don't let this happen to you. Remember to stand up straight, lift with your legs, and for the love of all things holy, don't twist your back while carrying something heavy.
3. Identifying Risk Factors for Back Injuries
Let's face it, back injuries are the worst! They can really put a damper on your day and make you feel like you're 100 years old. That's why it's important to identify and avoid risk factors that could lead to these pesky injuries.
First up on the list of risk factors is lifting heavy objects improperly. We've all been guilty of this at some point or another. But have no fear, proper lifting technique is here! Instead of using your back to lift, try squatting down and using your legs. It may not look as cool, but it will save your back in the long run.
Another risk factor to be aware of is poor posture. Slouching may seem like the cool thing to do, but it's not doing your back any favors. So sit up straight, shoulders back, and head held high! Trust us, your spine will thank you.
Improper lifting technique
Poor posture
Lack of exercise and stretching
One more thing to keep in mind is the importance of exercise and stretching. Sitting at a desk all day can make your back feel like it's made of concrete. So take a few minutes to stretch and move around every hour or so. And if you're really feeling adventurous, try some back strengthening exercises like planks or bird-dogs. Your back will be so strong, it'll be like you're wearing a suit of armor!
So there you have it, folks. Avoid improper lifting, sit up straight, and get moving! With these tips in mind, your back will be as happy as a clam (whatever that means).
4. Exercises and Stretches for Lower Back Pain
When your lower back starts to ache, it can feel like you're carrying the weight of the world on your shoulders. But fear not, because we've got some exercises and stretches that will help alleviate some of that pressure. With a little bit of effort and some minor adjustments to your routine, you'll be able to say goodbye to your lower back pain in no time. Here are some exercises and stretches that will help you get started:
The Cobra: This is one of the classic yoga poses that works wonders for the lower back. Simply lie flat on your stomach and place your hands on the ground near your shoulders. Slowly lift your upper body off the ground, using your hands to push yourself up. Hold the position for a few seconds before slowly lowering yourself back down. Repeat this exercise for a few reps, and feel your lower back pain melt away.
The Cat-Cow Stretch: This stretch is great for people who sit for long periods of time. Start on all fours, with your hands and knees on the ground and your back straight. Begin by arching your back upward while inhaling, then release and let your back drop down towards the ground while exhaling. Repeat this motion several times, feeling the stretch through your lower back.
The Happy Baby: It might look silly, but this stretch is great for getting all of the kinks out of your lower back. Lie on your back with your knees pulled up towards your chest. Grab hold of your ankles with your hands, and gently rock back and forth. Stretching your spine and lower back muscles gently while lying on your back can be a breath of fresh air, especially for your back.
Now that you've got a few exercises and stretches to try out, go forth and conquer your lower back pain. Remember, consistency is key, so make sure you're doing these stretches and exercises regularly. It may take some time, but with a little bit of effort, you'll be able to say goodbye to that unwanted lower back pain. Good luck!
5. How to Incorporate Safe Lifting Habits into Your Daily Routine
Lifting heavy objects can be a pain in the neck – literally – if you're not careful. But incorporating safe lifting habits into your daily routine doesn't have to be a huge undertaking. Here are some tips to keep you and your spine safe:
First, learn to lift with your legs, not your back. Squat down, bending at the hips and knees instead of your waist. Then lift slowly, keeping the load close to your body and your feet shoulder-width apart. And don't forget to breathe!
Tip: If the object is too heavy to lift comfortably, employ the help of a friend or colleague. Just make sure to share your chocolate stash as a reward for their assistance.
Tip: Never twist your body while lifting – keep your shoulders and hips aligned.
Tip: It's important to take breaks during extended lifting sessions. And by "breaks", I mean feel free to take a nap or do some online shopping. Just make sure to stretch afterwards.
Remember: safe lifting habits aren't just for the gym. Incorporate these tips into your everyday routine – from lifting groceries to your morning coffee – and you'll be protecting your spine and feeling like a champion.
Don't be a Pain in the Back
Congratulations, you made it to the end of the article! Now that you've learned how to lift safely and manage lower back pain, you'll be able to impress your friends with your flawless lifting technique. Just don't forget to stretch and warm up before showing off your skills.
Remember, a healthy back is a happy back. So go forth and conquer those heavy boxes and awkward furniture without fear of injury. And if all else fails, just hire a bunch of strapping young men to do the heavy lifting for you. Your back will thank you.